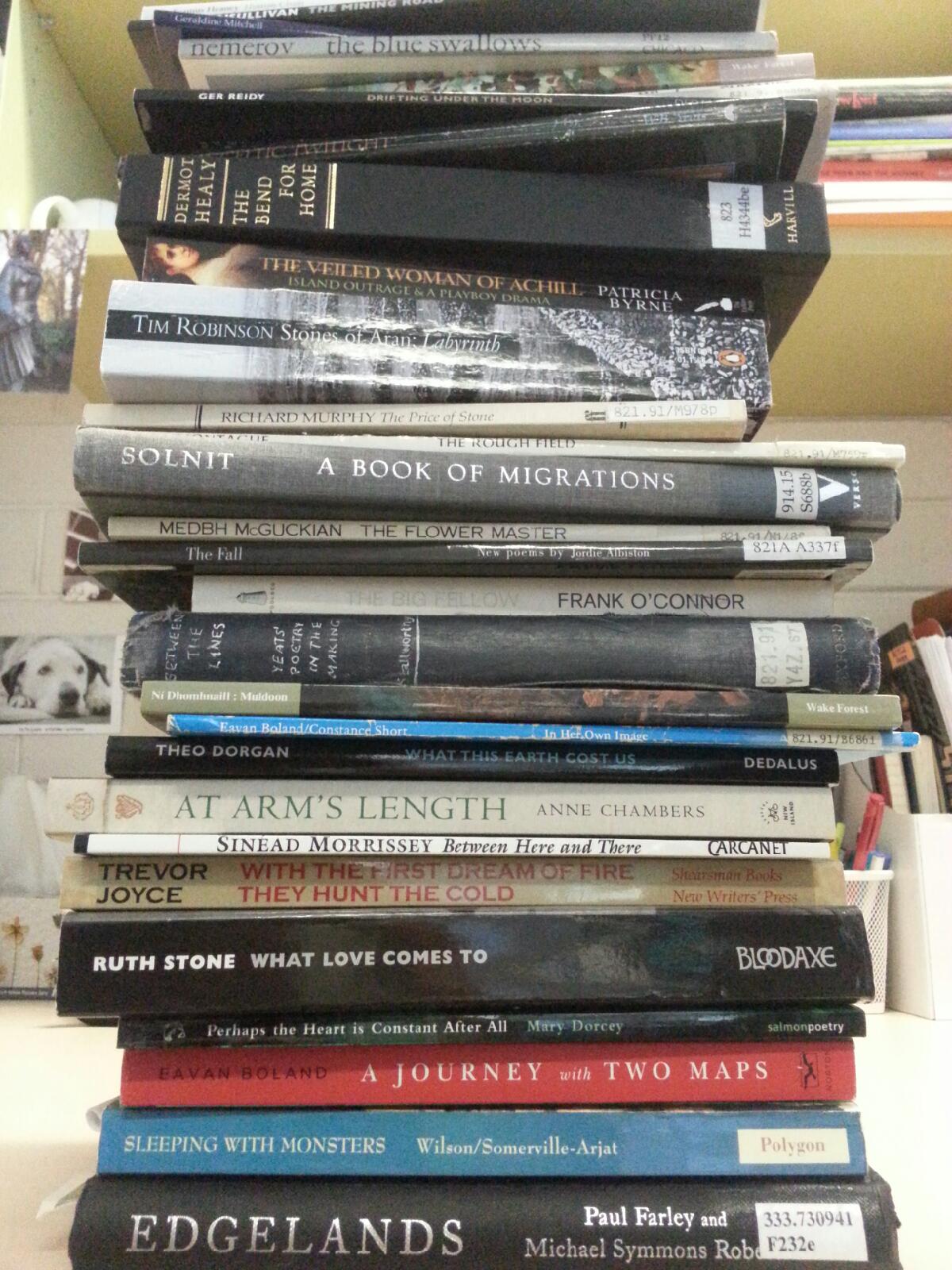 Messy pile -> poem.
Today I selected books – some poetry, some prose – from my shelf at random and set about writing today's poem from their titles. In the end I was left with these 30 titles (including the poem title), to which I added some linking words and phrases. I've listed the books and authors in alphabetical order below, after the poem.
Edgelands
In a world without maps
Pharaoh's daughter is drifting under the moon
in the Celtic twilight, across the stones of Aran.
Between here and there, the mining road curves
through the rough field like the bend for home.
Around her shoulders is draped the astrakhan cloak;
at arm's length she holds a book of migrations,
a journey with two maps,
but between the lines are secrets
about the fall,
about what this earth cost us,
riddles reminding her
that because of sleeping with monsters
our banished misfortune
is in her own image; is the price of stone.
In this new territory
the veiled woman of Achill,
the big fellow and the flower master
form a human chain,
and through the square window
we may see the blue swallows –
with the first dream of fire they hunt the cold –
but here, or there, or anywhere
what love comes to is this:
perhaps the heart is constant after all.
A Book of Migrations ( Lorrie Moore)
A Journey with Two Maps (Eavan Boland)
At Arm's Length (Anne Chambers)
Between Here and There (Sinéad Morrissey)
Between the Lines (Jon Stallworthy)
Drifting Under the Moon (Ger Reidy)
Edgelands (Paul Farley and Michael Symmons Roberts)
Human Chain (Seamus Heaney)
In Her Own Image (Eavan Boland/Constance Short)
New Territory (Eavan Boland)
Perhaps the Heart is Constant After All (Mary Dorcey)
Pharaoh's Daughter (Nuala Ní Dhomhnaill)
Sleeping with Monsters (Wilson/Somerville-Arjat)
Stones of Aran (Tim Robinson)
The Astrakhan Cloak (Nuala Ní Dhomhnaill)
The Bend for Home (Dermot Healy)
The Big Fellow (Frank O'Connor)
The Blue Swallows (Howard Nemerov)
The Celtic Twilight (W B Yeats)
The Fall (Jordie Albiston)
The Flower Master (Medbh McGuckian)
The Mining Road (Leanne O'Sullivan)
The Price of Stone (Richard Murphy)
The Rough Field (John Montague)
The Veiled Woman of Achill (Patricia Byrne)
Through the Square Window (Sinéad Morrissey)
What Love Comes To (Ruth Stone)
What this Earth Cost Us (Theo Dorgan)
With the First Dream of Fire they Hunt the Cold (Trevor Joyce)
World Without Maps (Geraldine Mitchell)