Plans to tour my solo show of poems and songs about Gráinne Mhaol after the sold-out Adelaide Fringe 2020 season were somewhat foiled by the advent of COVID-19. Who knew a global pandemic was imminent?! So when we had the opportunity to bring the show to the beautiful town of Penola in July 2021, we were a bit apprehensive because of course we had to be ready to cancel at a moment's notice.
Penola
is almost 400 kms south-east of Adelaide, in a winery region called
the Coonawarra
.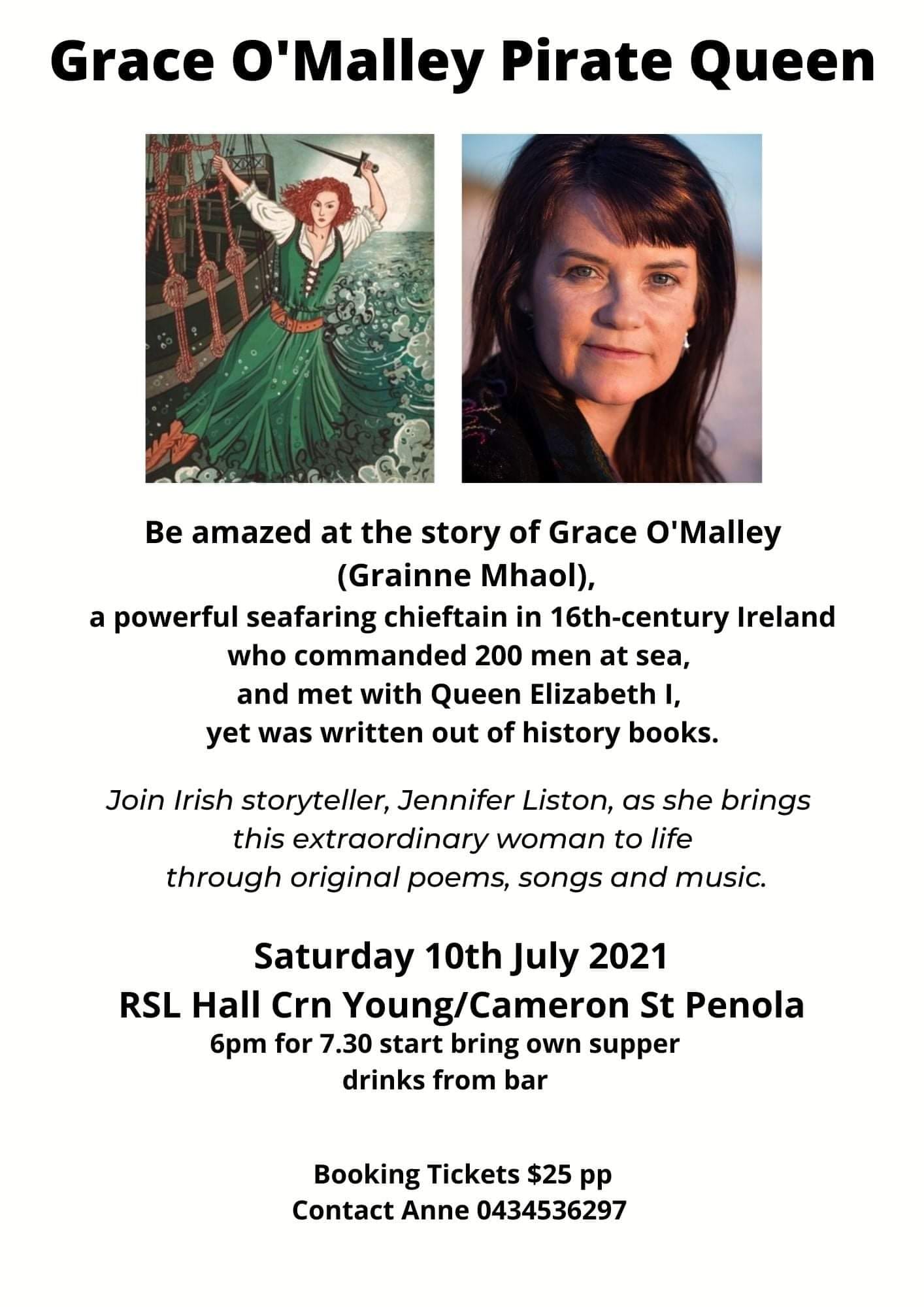 Anne and Leigh Miller, our wonderful hosts and people 'on the ground' there, did all the legwork, all the promotion, organised the venue, and invited us to stay in their lovely self-contained studio/flat. We packed our car to the roof with lights, mixing desk, and all the associated light and sound gear, and took to the road. It was a good exercise for us to prove to ourselves that we could be completely self-contained and not need anything to set the venue up the way we wanted. We even brought our own ladder! It was looking like a reasonably late arrival (by Adelaide standards, not by ours!) at our generous hosts' home, so we were delighted that we arrived slap bang in the middle of one of their regular music sessions – a great start to the weekend.
Robert and I spent all of Saturday setting up the lighting and sound in the RSL hall. We decked it with candles to make it cosy and inviting – it really was the perfect setting to regale everyone with songs and poems about this amazing woman's exploits. About 30 souls braved the chilly weather to see the show on Saturday evening. With full bellies from delicious suppers plus ample supplies of wine and beer, the audience was wonderfully receptive and warm and offered very kind feedback about the show.
Thank you to my talented right-hand man,
Robert Rath
, who seamlessly integrated lighting and sound in his wonderfully exacting way. Thank you particularly to David Milton for recording the show, which will be useful for me to review and improve or change aspects of it for future showings. We were extremely grateful to those who helped us move things around in the hall to prepare for the show, and who helped return it to its former state afterwards.
On Sunday we visited a few of the gorgeous local wineries. Some wines from
Zema
and
Majella
may have travelled back with us to Adelaide!
As I've said before, it is a privilege to have the opportunity to bring Gráinne to life through my original poems and songs, and to be able to share them with such a diverse and willing group of people. I'm so grateful for all the support I've had along the way.
Again, tremendous gratitude, particularly to Penola residents Anne and Leigh Miller, and to all those who came to the show that evening.